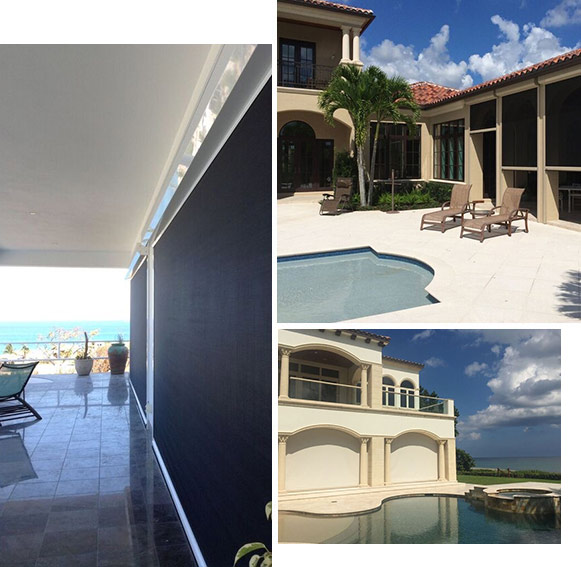 Hurricane Protection, Security, and Better Living
The High Wind Shield: Simply The Most Advanced Hurricane Shutter In The World
Our revolutionary hurricane screen is unlike any other system available today! It features the newest technology and is designed to be used as a year round system. The screen is simply one of the strongest and most durable textiles available today. At the very heart of its superior performance is a carefully engineered aramid core.
FINALLY A Hurricane Fabric That Is 24/7/365
High Wind Screens & Hurricane Solutions offers the best solution for the homeowner who wants a screen that has been designed and tested to provide protection against hurricanes as well as a solar screen that provides protection from everyday weather conditions of the sun and insects.
Call
239-590-9463
to speak with one of our installation experts today!
PROTECTING SWFL FROM THE STORM. SARASOTA TO MARCO ISLAND.
Hurricane Protection, Security & Impact Windows/Doors
Residential Homes & Condos | Commercial | Government
We have the experience to properly install, maintain, and repair shutters, storm panels, and more. We've been established in 2007 keeping SWFL safe for years. 7.
GET STARTED WITH A FREE ESTIMATE!
THE MOST ADVANCED HURRICANE SCREEN IN THE WORLD
High Wind Shield is tear and puncture resistant, and offers a 10-year limited warranty on the fabric.
High Wind hurricane screens offer a unique screening system that combines all the attributes of a solar screen with the strength of a hurricane product, a solar screen that exceeds the requirements of Miami-Dade County impact test for hurricane protection and has a 10-year warranty. It is made to be used every day, in every weather condition from glaring sun to hurricanes.
Hurricane Protection
Exceeds large and small missile impact tests for Florida Building Code
Exceeds impact test standards for Miami-Dade County
Exceeds standards for International Building Code
Exceeds standards for Texas Department of Insurance
Solar Screen
Blocks up to 95% of Sun's harmful rays
Reduces glare & energy consumption
Other Benefits
Enjoy the outdoors with protection from insects and bugs
Extended exposure to the sun will not result in fading like with other screens
The screen is designed to be tear & puncture resistant
The High Wind Hurricane Screen System is approved for FBC and Miami Dade.
Properties & Benefits of The Shield Hurricane Screen Shutter System
Screen made of Aramid Core
Aramids, are lightweight materials that possess extraordinary strength and heat resistant properties and are often used in aerospace and military applications such as body armor and ballistic composites.
Most other products available today use the polypropylene material and there's no comparison when it comes to aesthetics and year round functions of our High Wind Screen System!
Additional Properties
Reduces glare and harmful rays of the sun
Able to withstand 3,200 lbs of pressure per square foot
Rain resistant / Fade Resistant / Wind Resistant / Mildew Resistant
10-Year Limited Screen Warranty
Reduces Energy Costs (up to 20%)
Provides Privacy from outside
The Shield from High Wind Shutters VS. Competition's Polypropylene Screens

The Shield is the only hurricane screen mesh to have a non-burn rating and testing versus polypropylene used by all our competitors is a flammable material. Our patented designed fabric is an Arimid blend of Kevlar and polyester with a vinyl coating that includes a 10 year warranty.
In addition to providing hurricane protection, the Shield also offers bug protection, solar protection, privacy and has good visibility inside or outside, day or night. No other hurricane screen systems offer these features.
High Wind Shutter (The Shield)
2 piece roller system
Reduced deflection (reel flex)
Allows the screen to roll up tight without creases or pocketing
Allows the interlocking system that is sewn into the screen, to stack off to the side of the roller
Only the visible screen material to roll on the enlarged center roller
Better visual aspect and aesthetically appealing to the eye
High Wind's Screen System can be used year round
The bottom bar includes a 1" thick wool pile felt to ensure protection against bugs crawling under the bottom of the screen
Competition (Polypropylene)
1 piece roller system
Creases and/or pocketing can occur
Unsightly screen border is visible
Less appealing to the eye